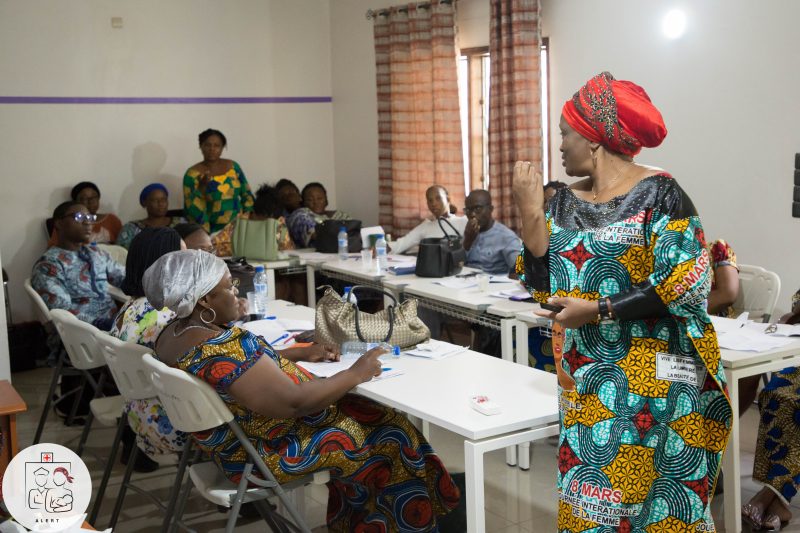 Days for midwifery: Competency-based trainings at the CERRHUD
Over the past few weeks, the CERRHUD has effectively delivered two rounds of competency-based training (CBT) sessions with the midwives of the National Univiersity Hospital Center (CNHU), in Cotonou. The three consecutive days of CBTs addressed the provision of safe and respectful care. The sessions, enabled by the ALERT team in Benin, had the Professor Justin DENAKPO (Head of Department for the University Clinic of Gynecology and Obstetrics) and the Professor Christiane AGUEMON guide a group of twenty or so midwives through an intensive CBT program. Topics such as, effective communication, pain management, companionship and mobility during birth, and intrapartum follow-up care, amongst others, were covered intermingled with in-depth discussions, roleplaying and laughter. In spite of the intensive and hot days, the group remained engaged throughout active, group activities, shared meals, and a common objective to discuss and improve the provision of consistent, safe, respectful care to the women of Benin.
The accomplishment of these CBTs did not solely reflect the gathering of a large group of individuals, many presentations, and broad range of discussion topics. It demonstrated, in the first place, the critical exploration of the underlying difficulties and barriers to the improvement of midwifery care at the CNHU hospital, on behalf of the Beninese ALERT team. It, secondly, reflected their collaborative engagement and closely knit connections to the hospital staff, doctors and professors. Lastly, and very importantly, the dedication of the midwives to the process of quality improvement in care provision was reflected throughout, with some of them on-call in the evenings and present throughout the training.
By the end of the three days, it can be concluded that the midwives participating in the CBT left equipped with the knowledge and interest in improving midwifery care provision, and the ALERT team with feedback on possible developments in the material and organizational resources for improved care provision.